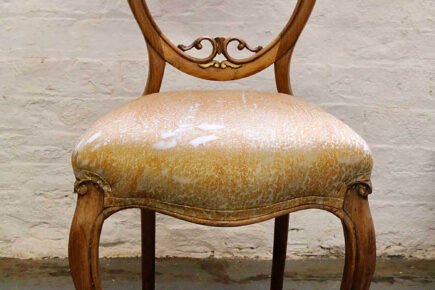 August 1/2/3
September 5/6/7
October 3/4/5
November 7/8/9
December 5/6/7
January 16/17/18
Upholstery and chair cushion making 1, 2 or 3 day course (dates run consecutively).
Learn to: 
Upholster a dining or bedroom chair, using historical upholstery techniques from 1600's: webbing, stuffing, stitching the seat pad into shape, tensioning of fabrics and developing an eye for the finishing details.
Buttoning and pleating on stools or chair backs
Make piping, insert a zip, create a box cushion.
Upholster bigger items such as a winged-back arm-chair or small sofa.
Re-cover, using original stuffings
And more, depending on your project…
This is a 1, 2 or 3 day course, and the dates run consecutively.
In one day you could, for example:
Complete a box cushion.
Learn how to pipe and insert a zip.
Start on a traditional upholstery project.
Complete a drop in seat.
Re-cover a modern dining chair or 2, or 3! or-
Complete a project from a previous course with me.
Or something else – just ask
In 2 days you could:
Complete a box cushion with piping and a zip.
Start and possibly complete a small traditionally stitched and stuffed dining chair (or other project).
Or any of the 1 day projects.
Or something else!
In 3 days you could:
Attempt a larger arm-chair, very small sofa, or-
Do a combination of the 2 day options, or-
Just have a relaxed time doing a smaller project over more time!
To complete a chair with a traditionally upholstered seat you will need to work a full 2 days. This will require focus and determination. 3 days would make it more leisurely… up to you!
I will be giving you in-depth tuition, explanations of techniques, and my knowledge gleaned from over 20 years experience as a working upholsterer.
I have a maximum of 6 students per class, so plenty of time given to each of you. Be assured that I will help with the very tricky bits, but only if you want or need me to.
I'm very happy to advise on suitable furniture, fabric and other materials.
I need a photo of your item before the course so that I can plan materials accordingly.
Points to remember:
– I cannot accommodate a big item like a medium sized sofa.
– Please don't bring anything that needs machine sewing unless you are competent at using a sewing machine! You are very welcome to bring your own machine along.
– Tartan or velvet is very tricky for armchairs, please bring something else for your first attempt.
– You will need to strip your chair down before the course to save valuable time. I will give you instructions on how to do that.
My workshops are good fun and hard work! You will be on your feet for most of the day – so comfy clothes and shoes are a must. My studio has a cement floor… you will need thick soled boots to keep your feet warm in winter.
By lunchtime I will need a very quiet break from talking… That means, every one out for food at 12.30pm – you'll have an hour to explore but don't forget to rest for a while – you'll need it! Rogues Atelier Studio is a very old building in Fossgate – a thriving, beautiful, city center street full of great independent restaurants and cafes in the heart of York.
There is central city car parking very close by. Your furniture can be dropped off with me before you park.
WHAT'S INCLUDED
Pre-course advice: Get in touch with any questions! I'm happy to advise on furniture, fabric and materials.
I have all the tools you need to use for the course.
Teas, herbal teas, and proper coffee are free of charge and available all day.
You can buy all the stuffings and materials from me (cheaper than most shops), and you're very welcome to bring your own if you have them. 
A bit about me:  I am a City and Guilds Traditional and Modern Upholsterer (AMUSF diploma equivalent), and trained at Jacob Kramer College in Leeds in 1997. 
Before getting my own studio I ran Upholstery and Soft Furnishings workshops for the City of York Council, Adult Education. I have been teaching with Craft Courses for 9 years.
I have created the interior design and upholstery for cafes, restaurants, pubs and shops in the city, alongside the usual commissioned upholstered pieces for home.
I'm known for my straight forward approach and believe that my students need to understand each stage thoroughly. I'll make sure you get it right.
Get in touch!
Jo x