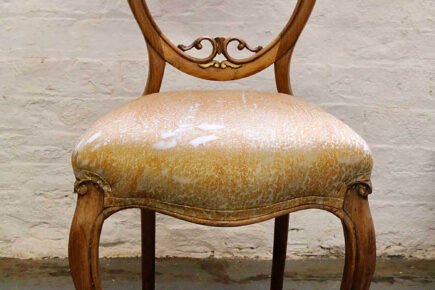 2023
May 3/4th
June 7/8th
July 5/6th
September 6/7th
Courses 9.30 am til 4.45 pm
Learn to upholster a dining or bedroom chair, using age old upholstery techniques: webbing, stuffing, stitching the seat pad into shape, tensioning of fabrics and develop an eye for the finishing details.
The 2 day course is scheduled for you to be able to complete a chair with a traditionally upholstered chair seat.
Please be aware that a chair with a back and/or arms will very likely take longer than 1 weekend.
Modern foam upholstery can also be accommodated.
I'm happy to advise on suitable furniture and fabric.
Points to remember:
– I cannot accommodate a big item like a sofa.
– Please don't bring anything that needs machine sewing unless you are competent at using a sewing machine! You are very welcome to bring your own machine along…
– Tartan, stripes or velvet are tricky, please bring something else for your first attempt.
– You will need to strip your chair down before the course to save valuable time.
I am a City and Guilds Traditional and Modern Upholsterer and trained at Jacob Kramer College in Leeds.
I have been upholstering on and off for 20+ years and have run Upholstery and Soft Furnishings workshops for City of York Council. I'm known for my straight forward approach and believe that my students need to understand each stage thoroughly. I'll make sure you get it right.
My workshops are good fun and hard work! You will be on your feet for most of the day – so comfy clothes and shoes are a must. My studio has a cement floor… you will need thick soled boots to keep you warm in winter.
By lunchtime I will need a very quiet break! That means everyone out for food. Rogues Atelier Studio is in Fossgate – a thriving city street full of great independent restaurants and cafes in the heart of York.
There is central city car parking very close by. Your furniture can be dropped off with me before you park.
All materials are provided for traditional upholstery (within reason), apart from any springs (if needed), your top cover and braid.
If you have a small sofa or armchair expect to pay a little more for the extra you need. We can talk about that before you book.
For modern foam based upholstery you may have to bring your own foam, it's just too bulky for me to keep lots in stock – I'm happy to advise what you will need.
You will have use of all my tools, however if you want to use an electric staple gun for your work then you will have to bring your own as too many of mine have ended up falling on the floor and breaking…
Teas and coffees are free of charge and available on tap!
Jo x